THE FESTIVAL
translationale berlin 2022
Festival for Literary Translation
September 30 – October 3, 2022
Collegium Hungaricum Berlin
Dorotheenstr. 12
10117 Berlin
Maxim Gorki Theater
Am Festungsgraben 2
10117 Berlin
The program of translationale berlin 2022 can be found here.
---
Translators on Stage!
With our second-ever translationale berlin festival, we once again call translators near and far and in renewed formation onto the stage. With poetry readings, concerts, workshops, talks, a translation game as well as a site-specific installation dedicated to three polyphonic cities Budapest, Minsk, and Kyiv, we celebrate multilingualism, the remarkable depth of translation cultures across the globe, and the precise-yet-exuberant imaginations of translators—without whom such encounters and exchanges with other cultures would not be possible.
We will direct our attention to languages and literatures often overlooked due to their supposedly "marginal" statuses, or to those that have long remained invisible in German translation, such as Yiddish, a language often assumed to be extinct. In addition, translators who work outside of Europe, for example in Brazil or Indonesia, will be featured, as well as those who translate literature not only into German, but into other languages, such as some of the various African languages. Indeed, the world of translation is still organized by geopolitical parameters that exclude a large part of what is written in other languages. And yet there remains so much to discover!
We are especially pleased about the cooperation with the Ukrainian literature and translation festival TRANSLATORIUM, which, due to Russia's criminal war of aggression against Ukraine, cannot take place as it usually would in Khmelnytskyi in early October. So to kick off the translationale berlin festival, the Ukrainian team will present poetry in times of war and a concert composed after the novel Amadoka by Sofia Andrukhovych.
Translators are virtuosos of linguistic metamorphosis; they allow foreign languages to resound in one's own, they immerse themselves in the nuances of literary texts and let them light up in their own languages. They wander between worlds as glorious in-betweens, combining the traditional with the new, hybridizing linguistic forms and shaping literatures with their own poetic powers. Mostly, they work in secret, but every so often they enjoy the limelight, too. So here's to translators on stage!
The translationale berlin 2022 is supported by the German Translator Fund, with funds from Neustart Kultur.

Cooperation Partners: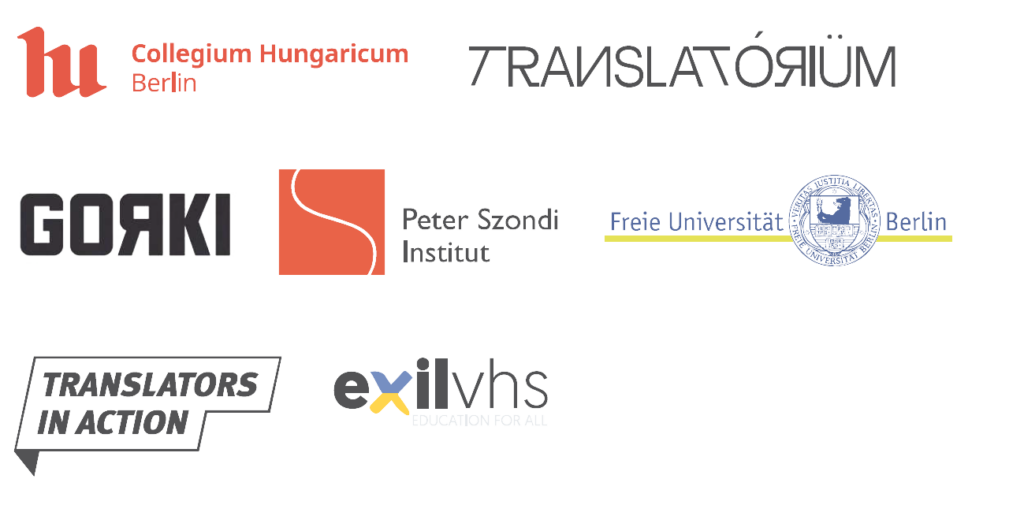 Presented by:

---